Message from UW Department Chair Greg Huang
Dear UW Ortho Alums,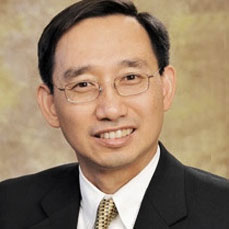 It has been a busy year, and as the holidays quickly approach, I would like to thank each of you for your support of our Department. I also would like to thank the UWOAA, and in particular, Perry Ormiston, who has done a wonderful job serving as President for the past two years. As you all know, the Department is deeply indebted to the UWOAA for sponsoring many activities throughout the year. I, like Perry, also encourage each of you to support the UWOAA, so it can do things like sponsoring Thesis Day and the UW receptions at the PCSO and AAO meetings, providing each resident with funding to conduct their research projects, and keeping our UW Orthodontic family connected with our website and newsletters.
In fact, we held our 70th anniversary reunion this summer, in conjunction with the David Turpin Symposium on Evidence-based Orthodontics. Both were hugely successful due to the participation of many alums. The event was made even more special by Bill Proffit's participation, just weeks before his unexpected death. Bill was always the educator and innovator, and he told us about his latest project – a blog that provides orthodontic information and evidence instantaneously to the whole world. At the age of 82, his influence continued to grow!
Dr. Proffit was brilliant, and I think all of us are extremely proud to say he was a graduate of our program, taught by Al Moore and Dick Riedel. My sincere hope is that we are continuing to provide our students with the same kind of scientifically based education that our founders envisioned. It has served all of our alums well, including those who are in practice, education, and leadership. Of course, Bill Proffits don't come around every day, and who knows who will emerge as the future leaders in our profession. But let's hope all aspiring orthodontists will continue to recognize our tradition of excellence, and seek their orthodontic education at UW.
Finally, there is one last issue I would like to mention. All of you know David Turpin has held the title of Moore-Riedel Endowed Professor for the past 8 years. He has been fantastic in this role, helping with teaching, research, and service. Our ultimate goal has been to raise enough money in the Moore-Riedel Endowment (a total of $1.5 million) to attain the title of Moore-Riedel Endowed Chair. We are less than $300,000 from reaching this goal, and I would like us to make this our collective mission over the next couple of years. You will hear more about this funding drive from the UWOAA, and you also may be contacted by the UW School of Dentistry Development Office. Alums Art Burns, David Turpin, and Cory Liss have already made significant pledges, so please join the effort to honor our founding fathers!
With my best wishes,
Greg
Sincerely,
Greg J. Huang, DMD, MSD, MPH
Professor and Chair
Message from UWOAA President Perry Ormiston
Dear UW alumni,

As many of you know, Peter Shapiro and Fedora Katz joined the UWOAA board of directors in January of 2018. As expected, we are already benefiting from their input and leadership. Additionally, Sally Gee joined the association, serving as our new administrator. As you all know, we're always looking for new enthusiastic board members – please contact me if you are interested in becoming a board member in the future.
The mission of our association remains the same: to be a resource to the orthodontic department that is independent of the UW Dental School. Proceeds from the Moore Riedel Memorial Fund are used to fund the association commitments. These commitments include funding resident research projects, contributions to the Alton Moore Thesis Day, contributions for orthodontic faculty development, paying the ABO exam fees for the outgoing residents, and to sponsor receptions at the AAO annual sessions. Your membership dues are used to fund the everyday workings of the association. After decreasing our membership dues from $160 to $95, we saw an increase in active members from 51 in 2017 to 63 in 2018. With over 400 living alumni, we hope to welcome even more UWOAA members in 2019.
The summer of 2018 was busy for the UWOAA. After helping to promote the inaugural Turpin Symposium, we also hosted the UWOAA reunion dinner. The Saturday evening event was held at the Seattle Yacht Club, drawing over 70 alumni and guests. We finished the weekend by sponsoring the alumni family barbeque, which was held on Sunday at the UW Waterfront Activities Center. We also continued with our mission to raise funds for the department. The Kokich-Shapiro endowed professorship was fully funded, and most recent donations have been directed to the Moore-Riedel Fund in an effort to boost the fund to the level of an endowed chair. We currently need an additional 300,000 to reach this goal.
I would like to remind you all that the UWOAA is now conducting most business via e-mail and the association website. We no longer have a P.O. Box, however we are able to receive mail. If you are interested in making a contribution to one of the funds listed above, or if you would like to become a member of the alumni association, you can do so by visiting the association website at https://uwoaa.org. If you have difficulty using the UWOAA website for dues or contributions, please feel free to send correspondence to my office at:
UWOAA
c/o Perry Ormiston
927 40th Avenue SW
Puyallup, WA 98373
Warmest regards,
Perry Ormiston
https://uwoaa.org/wp-content/uploads/2016/05/UWOAA-Logo.png
0
0
Brad Delaney
https://uwoaa.org/wp-content/uploads/2016/05/UWOAA-Logo.png
Brad Delaney
2018-11-25 22:06:05
2019-04-23 13:49:14
UWOAA Wire Fall 2018